Land|Slide: Possible Futures
Museum for the End of the World
Future Cinema Lab
LOT: Experiments in Urban Research
Leona Drive Project
Visible City Project
Cinema Expo 67
---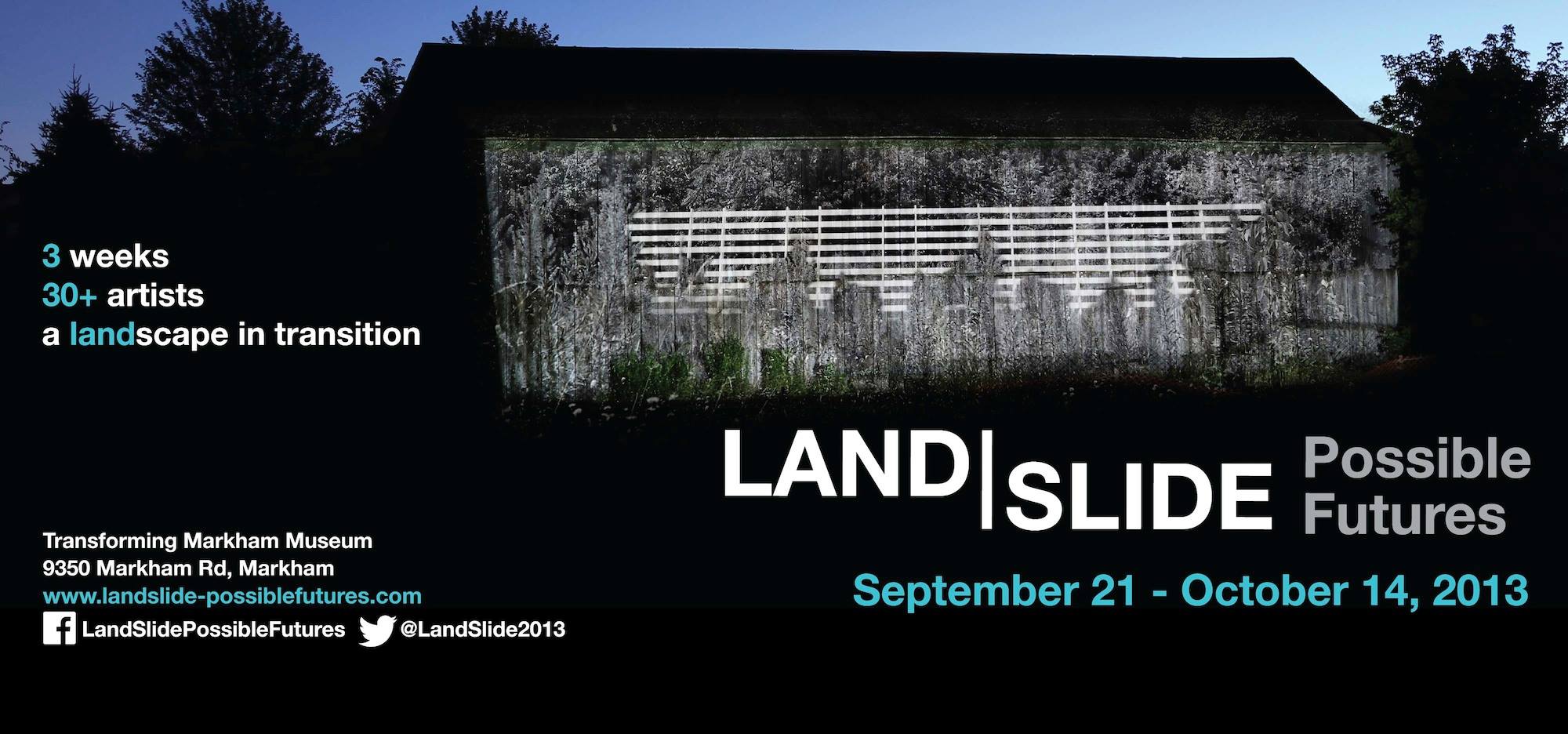 Trailer
September 21 – October 14, Project Lead and Curator
LAND|SLIDE: Possible Futures will be a large site specific Art Exhibition in 2013 in Markham, Ontario, one of the oldest, most culturally diverse and fastest growing suburbs in North America. The line is a critical formal element of the exhibition. In 2010, a proposal for a food belt in the Markham area, a line designed to curtail development into Ontario's prime agricultural lands was narrowly defeated.
LAND|SLIDE is a multisectoral project that invites 20 artists—local and international, emerging and established—who work in a variety of media, and whose practice has been engaged with ecological issues to develop different interpretations of the concept of the line.
---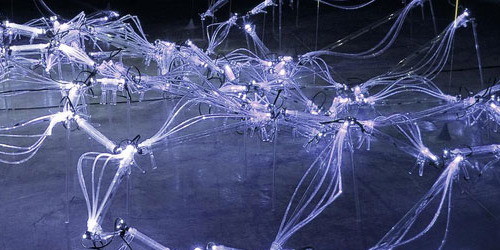 Trailer  
Mounted in various locations around Nathan Phillips Square and City Hall (from Council Chambers to the underground parking garage), Museum for the End of the World is an exercise in creativity and crisis.
One of the greater ironies of human existence is the persistent anticipation of its end. Dates are named and dates pass. Ancient texts are read with an eye to temporal alchemy, and whether the result of monster waves, unstoppable pandemics, nuclear calamities, machines on the rampage or the sun ceasing to shine, the idea of Doomsday – that revelatory moment of the end of the world – can be at once the fire of speculative lamentation and the spark of insightful creativity.
Indeed, the link between creativity and the apocalypse has a long history, from Noah's shipbuilding and organizational skills to the literal bean counters buried deep beneath the mountains of Norway, stockpiling all the seeds of globe for the post-apocalyptic garden. In this way, the very idea of the Wunderkammen, with its princely mission of amassing, cataloguing and displaying was fueled by a fear of the end of the world. Museum for the End of the World at Scotiabank Nuit Blanche 2012 is a provocative, critical rumination about end times and a world in transition.
---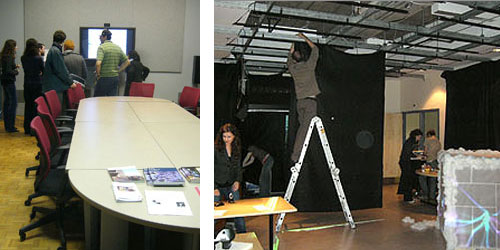 Located within the Faculty of Fine Arts at York University, the Future Cinema Lab (FCL) investigates how new digital storytelling techniques can critically transform a diverse array of state-of-the-art screens. The FCL is the first dedicated facility of its type in Canada, enabling researchers to design new forms of storytelling, develop prototypes for urban research, and create innovative, subversive projects within networked and hybrid media environments.
---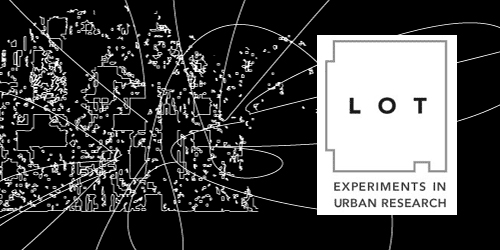 LOT is a new collective that was formed in the summer of 2007 with a group of seven artists and urban researchers—it has now almost doubled in size. The group, located in Toronto, shares a commitment to develop research tools that employ art to create new epistemologies. We are also committed to experimenting with new forms of exhibition that construct different situations, new interdisciplinary and intermedial frameworks. LOT (League of Tangents) produces small urban interventions (probes) to discern the phenomenologies of everyday life—such experiments are often mixed with theorizing, the process of thinking with and through theory to understand the present moment.
---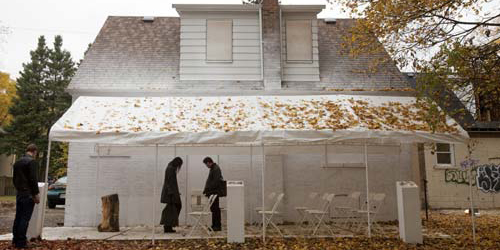 A Public Access + LOT Project
The Public Access Collective will collaborate with L.O.T. : Experiments in Urban Research (Collective) to commission several artist projects for a site specific exhibition in a series of six vacant bungalows slated for demolition by HYATT HOMES, a developer in Willowdale, Ontario (in the Yonge and Finch area of Greater Toronto). The exhibition artists will be working in a variety of media: audio, cell phones with GPS, architectural installation, projection, photography, sculpture and performance for a period of two weeks, from October 22nd – 31st 2009. Collective members Janine Marchessault (Public Access and LOT) and Michael Prokopow (L.O.T.) will work collaboratively with the artists to develop an exhibition specifically designed to engage with the architecture and spatial design of the houses typical modernist dwellings of the prosperous and decidedly homogenous decades of post World War II Canada and the large back yards.
---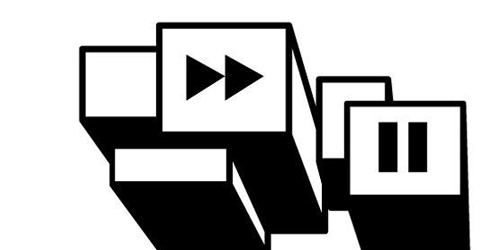 The Visible City Project seeks to understand the different roles that artists play in imagining and helping to design 21st century cities. The project investigates how art practices function in specific contemporary urban contexts as a tool for enhancing communication and renovating democratic citizenship, and how they might be used to educate and transform the experience of urban dwelling in light of the changing technological, economic and cultural experiences of globalization.
---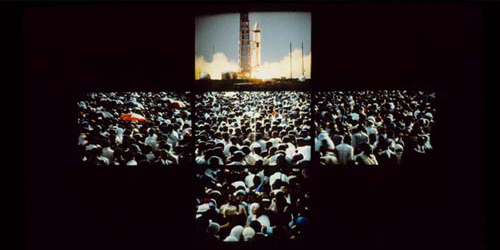 Cinema Expo 67 engages in fundamental research and contextualization of the most important films to have disappeared from the Canadian film canon. These seven multi-screen productions challenged both the cinema production technology of the day, modes of screening, audience reception as well as the received wisdom as to what cinema was or could be. Roman Kroitor, Colin Low and Tom Daly's Labyrinth Pavilion – a five story building designed around two multi-screen productions – has been described as the "last, and most complete, statement of the collective humanist ethos of the NFB's Unit B" (Morris). Michel Brault's Settlement and Conflict and Charles Gagnon's The Eighth Day were major works by two of the most gifted Canadian filmmakers of the day. Graeme Ferguson's Polar Life and Christopher Chapman's A Place to Stand demonstrated the potential for large screen cinema exposition that Ferguson and Kroitor would shortly thereafter develop as IMAX. Two other multi-screen productions – Canada 67 and Francis Thompson and Alexander Hammid's We Are Young – contributed to a growing body of alternative cinema widely seen as the future of the medium.
---